 Technology
Servcorp's Investment in IT Infrastructure Pays Off
Servcorp, the world's foremost provider of Serviced and Virtual offices, has become an IT innovator to stay ahead of its competitors and is seeing the benefits of a $50 million investment into a worldwide converged IP network.
Many serviced office and managed workspace providers cut corners on costs when providing technology solutions. Their margin is a higher priority than their service. This means their clients ultimately suffer down time and data loss and communications issues. Servcorp Chief Information Office Marcus Moufarrige said the company's dedication to ensuring it had robust data and communications infrastructure had already paid dividends.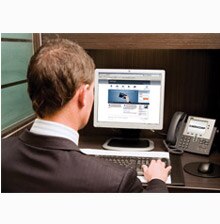 "Servcorp's dedication and an investment of $50 million into our worldwide converged IP network has delivered our clients 99.99 per cent up time across the globe," Mr Moufarrige said:
"Servcorp have made an ongoing commitment to provide the highest levels of voice and data connectivity for our clients."
Mr Moufarrige said a major difference from a technological perspective between Servcorp and its competitors was its decision to invest in a VoIP platform ten years ago, creating the cornerstone for an interconnected communications network.
"Having a reliable robust technology platform with multiple redundancies is critical to ensure our clients can run their businesses smoothly. It doesn't matter if they are in one of our office locations or accessing their Servcorp online account anywhere, anytime," he said. "Our new iPhone applications just extend that flexibility and capability"
He said a further indicator of Servcorp's unparalleled service was depicted earlier this year when Thailand fell victim to political unrest which led to havoc along one of Bangkok's prime business districts.
"The Servcorp building was on fire, meaning that clients had to leave the premises and stop working," Mr Moufarrige said.
"The site was inaccessible to clients for a significant amount of time and the challenge which ensued was for clients wanting to maintain the operation of their business without onsite availability.
"This problem was resolved utilising Servcorp's communications infrastructure to remotely log onto the system and divert all the calls to Singapore. All the calls of clients were being answered as if the business was open for operation.
"Due to our technology which enabled the redirection of calls to Singapore and we actually flew a receptionist there so that she could handle calls in Thai. Our clients enjoyed the benefit of being in operation while the rest of Bangkok in dissarray."
Mr Moufarrige said Servcorp has also made a commitment to provide fast internet connections within all locations by purchasing the tier one level of service.
"Our rule of thumb is to always use a tier one provider because it mitigates a fair bit of that risk and we know that anywhere in the world, we get the best performance out of that country," he said.